About the Locality
The New Forest District is a unique blend of ancient forest,
downland, small towns and villages and rural and industrial
landscapes, surrounded mostly by coast and rivers
The New Forest is recognised nationally and internationally as
being special. Its .social and economic life is intrinsically bound up
with its history and unique environment. It is distinctly different
in character from the rest of Hampshire. It is an area equivalent
to a national park. Situated between the south coast conurbations
of Southampton and Bournemouth, New Forest District covers
290 square miles. It has 40 miles of coastline and a population of
166,205 (1996 Census - County figures).
A short description of the District is given below.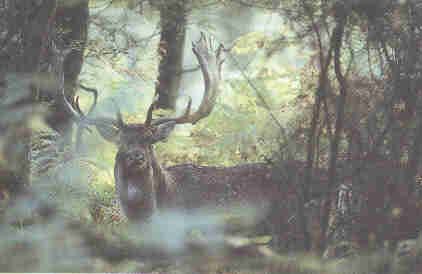 HISTORY
Originally established between 1066 and 1086 as a Royal Forest and
hunting ground, the New Forest has survived the centuries. Names
that remain today signify the Forest's ancient origins, e.g.
Knighthood Inclosure and King's Garn Gutter Inclosure.

The survival of the New Forest in its present form is largely due
to the historic system of "commoning", with commoners exercising
their rights to graze livestock on the open forest. This has both
shaped the landscape and limited change. The open forest and land
with grazing rights cover almost all of the New Forest District area.

The New Forest has always been distinctive, subject to its own laws
and institutions since Norman times. The Verderers Court (including
the Court of Swainmote) has provided a local instrument of
regulation since the 13th century and still meets today.


Prior to 1974, the New Forest area was governed by three local
authorities in addition to a county council. All were established
in the 19th century. New Forest Rural District (based at Lyndhurst);
the Borough of Lymington; and Ringwood and Fordingbridge
Rural District all had coats of arms which reflected their
relationships with the New Forest . In 1974, these three 19th century
councils were brought together (with minor boundary changes) as
New Forest District Council. A 'natural community' for the purposes
of local government was formed.

SETTLEMENT PATTERN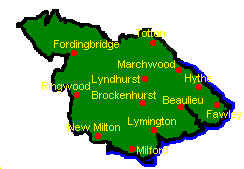 New Forest District Council Area
It is the New Forest itself, rather than any settlement, that dominates
and gives cohesion to the District. Of the District's 166,205 residents,
about 30,000 live within the Forest. Lyndhurst (3,164), the 'capital of
the New Forest' and Brockenhurst (3,435) are the largest New Forest
villages. The majority of the District's residents live in the towns and
villages that surround the New Forest. Most are adjacent to the
Forest boundary. Totton, in the north east of the District is the biggest
town with a population of 26,884. The other main , settlements are:
New Milton

23,074

Hythe and Dibden

19,715

Fawley

14,140

Lymington

14,062

Ringwood

13,415

Fordingbridge

5,965

Marchwood

5,201

Milford-on-Sea

4,563
(1996 census - County figures)


©2000 LYN SMITH